October 23, 2015
By Mark Golden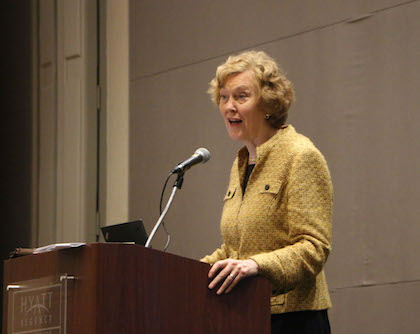 SACRAMENTO, CA−Religious leaders around the world are reviving the tradition of environmental stewardship among their followers, Yale University's Mary Evelyn Tucker said in the opening address of the annual Behavior, Energy & Climate Change conference.
Most notably, Pope Francis' encyclical, "Laudato Si: On Care for Our Common Home," called for all people to take swift action against climate change, general environmental degradation and poverty. And leaders of many of the world's religions are taking similar steps, said Tucker, director of the Forum on Religion & Ecology at Yale, said. The Dalai Lama, leader of Tibetan Buddhists, has ramped up his rhetoric in advance of the U.N. climate change talks in Paris this December. Tucker also noted climate appeals just in the past few months by a group of more than 400 rabbis from a broad spectrum of American Jewish life, a group of Islamic leaders from 20 countries, senior leaders of Anglican religions worldwide and the Constantinopole Patriarch, generally regarded as the spiritual leader of the world's 300 million Orthodox Christians.
"Climate change is a moral issue. The message of the Pope's encyclical is 'cry of the earth, cry of the poor' and his authenticity on this is astonishing," Tucker said. "But the Orthodox Ecumenical Patriarch has used very strong language about crimes against creation and ecological sin. And 10,000 religious leaders attended the People's Climate March in New York City last year."
Such leaders may be having an impact. Churches, synagogues and mosques around the world are lowering their carbon footprint and lobbying their political leaders for action, Tucker said.
But people do not have to be a member of a religious community to participate in the spiritual movement to protect the environment. Spirituality can be thought of broadly, Tucker explained, like the human search for meaning, which speaks to both religious and non-religious people.
"An atheist can still be lit up by the awe and beauty of nature, the enormous mystery of these processes from sunrise to sunset," she said.
In the United States, the religious right has generally opposed environmental legislation for decades and driven some Republican Party officials out of office for even moderate environmental positions. James Sweeney, director of Stanford University's Precourt Energy Efficiency Center and moderator of the keynote address, asked Tucker how she can be so optimistic.
Religious fundamentalism and climate skepticism are not so strongly linked in most of the rest of the world, Tucker replied, citing Likud politics in Israel, the Islamic world broadly, and the words—if not the actions so far—of India's Prime Minister Narendra Modi, leader of the very conservative Bharatiya Janata Party.
Meanwhile, many U.S. Republican leaders are looking for an umbrella under which to escape the "denialist camp," said Tucker. Eleven Republican U.S. Congressmen publicly called for action on climate change just ahead of Pope Francis' visit.
"I'm trying not to be too optimistic, but denialism is not the whole story. The grassroots movement is growing, but it will take a while," Tucker said.
At the same time, Tucker urged the many researchers who participate in the BECC conference to remember that science and technology are not enough to solve the climate problem. "Science has to move away from its reductionist view. The scientific method is just a method, it's not a world view," said the senior lecturer and research scholar at Yale's School of Forestry & Environmental Studies.
"Religion won't answer all the questions either, but I think it will help in this way: We are going into a period, maybe we're already there, of mourning, sadness, even despair," Tucker said. "I see it in my students, who ask: 'Are we going to make it?' 'Where are the boundaries?' 'Have we overshot them already?'"
Religious leaders can complement the work of BECC's social scientists, sustainable business leaders and policymakers, work that Tucker described as essential to the evolution of human history. "But religious leaders are dealing with a spiritual energy," she concluded. "For our future, human energy and resilience is the most renewable energy we have. We need a restoration of the human spirit for a truly flourishing future."
Behavior, Energy & Climate Change is an international conference focused on understanding the behavior and decision-making of individuals and organizations, and using that knowledge to help accelerate the transition to an energy-efficient and low-carbon future. Stanford University's Precourt Energy Efficiency Center, the Berkeley Energy & Climate Institute, and the American Council for an Energy-Efficient Economy organize BECC.
(Mark Golden works in communications at the Precourt Energy Efficiency Center at Stanford University.)
-30-
Media Contact: Mark Golden, (650) 724-1629, mark.golden@stanford.edu