Due Date: April 1, 2019
Click buttons below to submit


What you will need to be ready to submit your abstract.
A word document describing your proposed presentation in 200-400 words
The names of co-authors and their email addresses. For panel submissions, you will also need the panelists' names, affiliations, and email addresses.
Select format for your submission–presentation/poster or panel discussion.
1. Presentation (5-10 minutes), lightning session (7-15 minutes), or poster abstract. Posters are the center of attention during the poster reception and then placed around the conference floor with permission of the author.
2. Panel 

discussion, panel objectives should be to debate or discuss topics. Presentations should not exceed 3-5 slides.
Finally, be prepared to help us place you in the best category for your submission.  See below.
The theme of this year's conference is "Scaling Up."
The need to mitigate climate change is more urgent than ever. BECC has been at the forefront of supporting behavioral research to address climate and energy issues for more than a decade. Now is the time to take these established principles and practices and scale them up. Scaling up means looking at the big picture, adapting small interventions for broad application, working with others, addressing policy, and generally taking climate action to the next level. In 2019, through regular and special sessions, we plan to showcase research, programs, organizations, and people that help move toward our sustainable energy and climate future.
We are seeking new, innovative research and applied work from people and organizations working to create a sustainable future.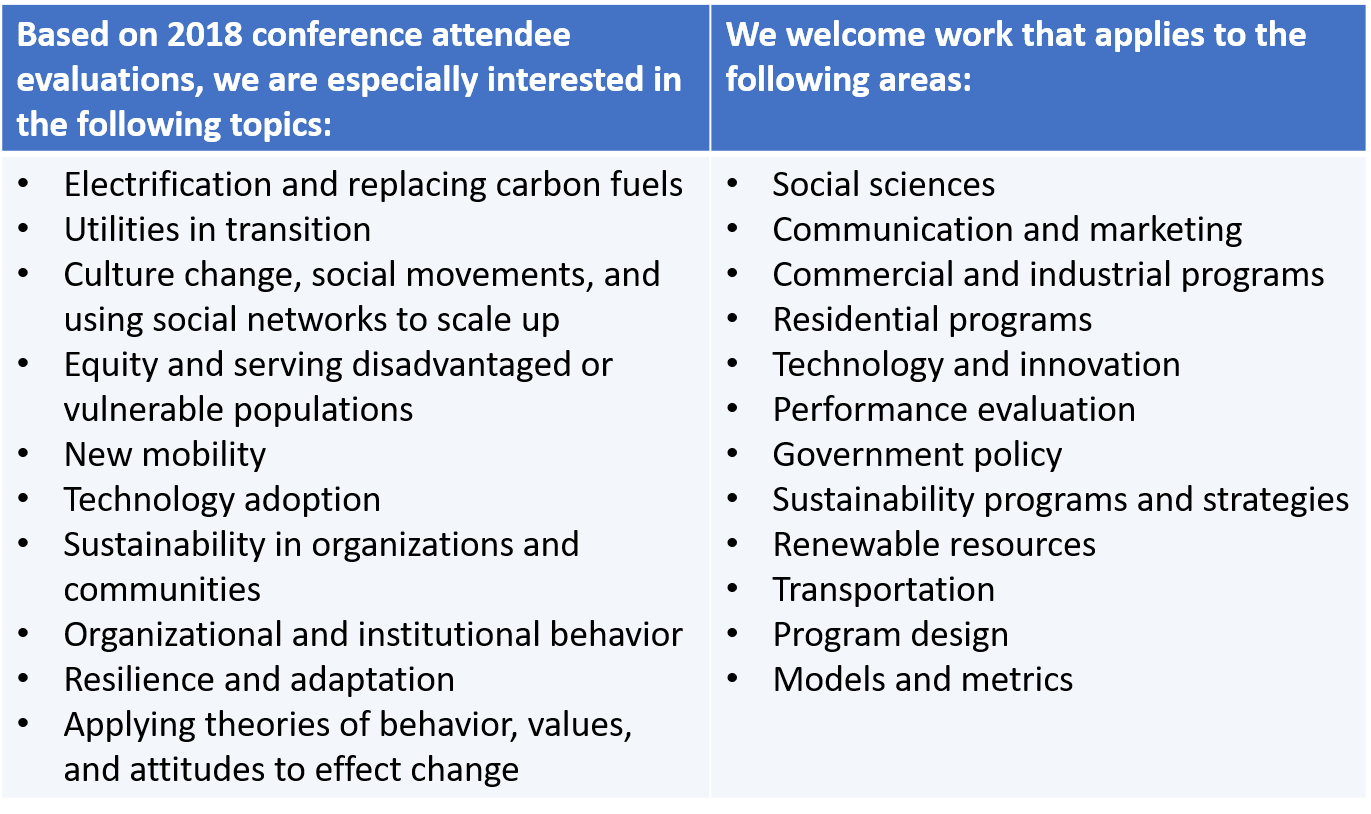 The Behavior, Energy & Climate Change Conference is the premier conference that brings together researchers, policymakers, utilities, and businesses focused on energy and behavior to advance knowledge and actionable climate solutions. BECC is co-convened by UC Berkeley, Stanford University, and the American Council for an Energy-Efficient Economy.