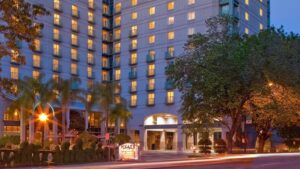 Hyatt Regency Sacramento
1209 L Street
Sacramento, CA 95814 USA
The discounted block of rooms at the Hyatt Regency Sacramento is sold out. Please contact the hotel directly for rates and availability. 
---
HOTEL ADVISORY: BECC does not solicit hotel reservations by phone or email. If you receive a call or email from any company offering to make hotel reservations for you over our meeting dates, we urge you not to book with them. These companies are not affiliated with BECC in any way and are not authorized to make reservations on our behalf. While the rates may sound good, unauthorized companies typically require nonrefundable, pre-paid reservations and often end up moving individuals to other hotels. If you book with an unauthorized company, BECC cannot provide any protection or recourse if there is a problem with your reservation. If you have questions about any communication you receive offering hotel accommodations, please contact info@beccconference.org.